The safe solution for a silky, healthy coat
Effectively remove your dog or cat's undercoat easily and without discomfort to your beloved pet. This is no ordinary brush, but a professional quality, two-sided stainless steel grooming tool. Why use multiple grooming tools when you only need one? You'll be amazed at how much dead hair our 2-in-1 brush will remove!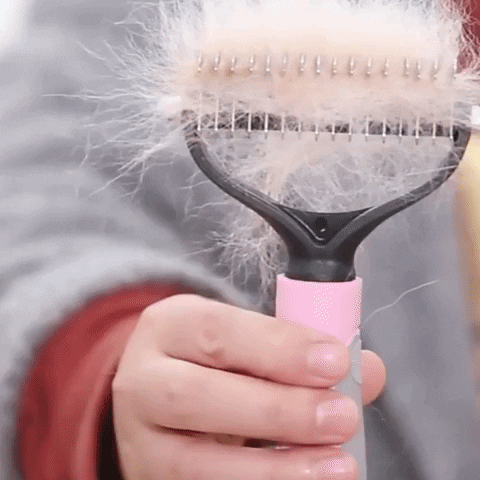 Double-sided design
Start with the 9-tooth side for tough knots and tangles and finish with the 17-tooth side for thinning and hair removal. Get faster, more professional detangling and grooming results.
Gentle on your pets' skin
Our detangling brush is designed with sharp yet fine, rounded teeth, allowing you to safely and easily remove knots and loose hair without irritating or scratching your pet.
Effective Detangling Tool
This undercoat rake gently removes loose hair, tangles, knots, dander and trapped dirt, a perfect solution for dogs and cats with thick coats or dense double coats.
Comfortable to use
Lightweight and non-slip, the rubber handle provides a comfortable grip and stability, so you can enjoy your grooming time with this pet brush.
Perfect gift for any pet lover
Since our rake is a versatile grooming tool, a must-have tool for removing pet hair, it would be a great gift choice for any pet lover, they will love it for sure.

Effectively reduces hair loss on the floor and sofa
Use the detangling brush regularly to remove dead hair, tangles and dirt that have become embedded in your dog or cat's coat.
Your four-legged baby will shed less and you'll quickly see a difference in your home, car and clothes.
Your pet will no longer shed all over your home.

🐾 Features:
Material: PP + TPR
Large Size: Length 172 x Width 90 x Height 27 mm (17 cutting head)
To save energy and time while grooming your pooch, adopt the Long Hair Dog and Cat Brush. Thanks to this innovative accessory, your dog's coat will remain soft, beautiful and healthy.